THI Canada Wildlfire Relief Fund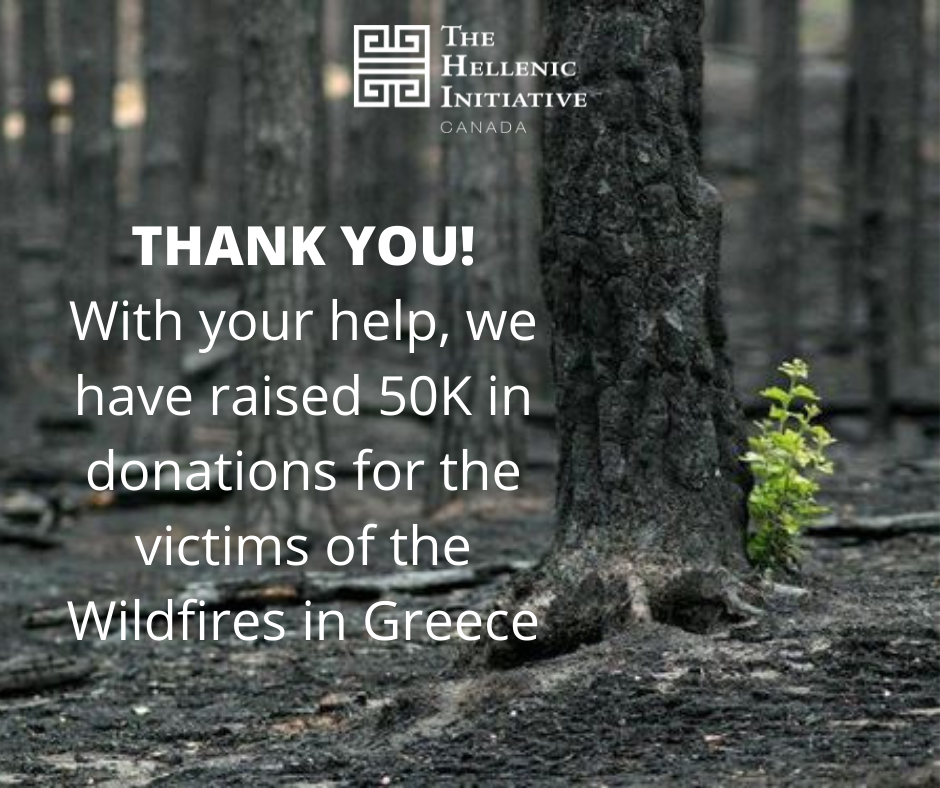 ---
We wanted to extend our deepest gratitude for your generosity and support that has far exceeded our expectations! We are currently working with people on the ground to assess the damages and ensure the funds will help those mostly affected recover.

All funds raised in this campaign will be dedicated exclusively to wildfire relief programmes and will be managed directly by THI-Canada. Consistent with our past practice, we do not donate funds to any government entities.
---
Thank you to everyone who donated:
Toula Alexandros, Tula Alexopoulos, Peter Anas, Peter Anastasopoulos, George Andreopoulos, Marina Andrikopoulos, Eleanor Antonakos, Mike Antoniades, Tina Antonopoulos, Anna Antonopoulos, Georgia Antonopoulos, Ioanna Antonopoulos, Constadinos Armenakis, Andonios Artemakis Mr, Ioannis Nicholas Arvanitis, John Athanasiou, Eleni Bakopanos, Niko Barlas, Giannoula Barlas-toutounis, Sophia Bastas, Carlos Bates, David Bedford, Laura Blumenthal, Nicholas Bourikas, Christos Boutopoulos, Theodore Bravakis Mr., Christopher S Canellos, Despina Chabot Mrs, Joyce Yee Chan, Christina Christara, Polyxeni Christou, Elpy Clerides, Kosmas Colocythas, Christina Coutsougerras, Julie Croteau, Leo Debeyiotis, Constantina Dellas, Domna Demetelin, Giannoula Diavolitsis, Laura Dicker, Strath Dimakos, John Dimitropoulos, Georgina Dimopoulos, Konstantinos Doumos, Eleni Dracopoulou, Mary Foss, Angela Gagnon, Fotini Gassios, Anastasia Gavalas, Demetrius Georgaras, Nick Georgitsos, Sotiris Giovanopoulos, Melissa Gold, Kelley Goulielmos, Belle Grivakis, Peter Halkias, Zisis Haritos Dr, Hellen Haziprodromu, Mary Heinmaa, Roger Ho, Lillian Hountalas, Demetre James Sioris, Anastasis Kaffa, Christina Kalogeropoulos, Kosta Kalogiros, Stavros Kamoulakos, Steve Kanellis, Aspasia Kaplaneris, George Spiros Karadakis, Stephen Karakatsanis, Susan Faith Karamessines, Effie Karavasilis, Maria Karteris, Chryssa Katsigiannis, Jennie Kazepidis, John Michael Kepertis, Christine Kirailidis, Ismini Kiriakidis, Hercules Kiriakidis, Christina Maria Kiriakoulias, Peter S. Kletas, Colten Knull, Peter Kollias, Peter Konidis, Nicolas Kontogiannis, Maria Kordoni, Antonis Koromilas, James Alexander-Kkorovessis, John Kotsopoulos, Annie Koutrakis, Jim Kraniasw, Uma Krishna, Nicktarios Kritikos, Tony Lourakis, Peter Lykos, Mai Janitorial Services, Steven Makrinos, Sarantos Maltezos, Dia Mamatis, Dimitri Maniatis, Helen Manthos, Aphrodite Marinakis, John Maris, Carmel O'Meara-morrison, Sarah Megas, Georgia Melonas, Dementre Merecoulias, Mike Mintsopoulos, Sophie Miridis, Dimitrios Jim Mirkopoulos, Steve Mirkopoulos, Chris Misketis, Nicole Mitrothanasis, Gus Mitsis, Dimitri Nassios, Nick Nianiaris, Sia Nikas, Jeannie Niokos, Julia Overs, Peter Papadopoulos, Vasilios Papagiannis, Costa Papaioannou, Nick Papapanos, Lambros Pappas, Hrysoula Pappas, Peter Paraschis, Lana Paton, Robert Peck, Effie Petsopoulos, Alex Plag, Takis Plagiannakos, Ben Potsis, Harris Poulis, Fotios Raptis, Jamal Raza, Mary Reklitis, Gisele Reklitis, Christina Rokakis, Zoe Rossolatos, Maria Roussakis, Johann Rutnam, Sophie Sacciadis, Patrick Sacdalan, Zoe M Sakellaropoulo, Aphrodite Salas, Sevan Salibian, Stella Salvador, Saporito Foods Inc., George Sapounidis, Helen Scandalis, Gerald Schaus, Robyn Scott, Elaine Scoufaras, Elizabeth Scoufaras, Louis Selmeci, Marc Sena, Michael Sidiropoulos, Jarrad Simpson, Konstantinos Sirillas, Christos Sirros, Alexey Soldatenko, Mihaela Solomon, Martha Sotos, Angelos Spingos, Maria-christina Spingos, Alex Stamatopoulos, Elleni Stefanidis, Argirys Stefanopoulos, Angela Stefatos, Eleni Stroulia, Christina Tasiou, Dina Tassos, Mathew Tatsis, Louise Terrillon-mackay, Voula Thalassinos, Frances Themeliopoulos, Demetra Thomakos, Mary Trifonopoulos, George Trigylidas, Dimitrios Tsakalakis, Golfo Tsakumis, George Tsiklis, John Tsiofas, Ilias Tsiotas, Valasia Tsokos, Panagiotis Tzavidas, Sophia Tzemenakis, Tony Vanikiotis, Panagiotis Varlagas, Tom Varvaresos, Aphrodite Vasilogianis, Zafiro Vatista, Kondilo Veroutis, Andreas Vikis, Magda Vogel, Mary Voyatzakis, Sanja Vukajlovic, Jeff Williams, Paul Willox, Alexandra Helen Wood, Mary Yeostros, Arete Zafiriou, Peter Zoumboulakis
You can still Donate to THI Canada's Wildlfire Relief Fund
You can also mail in your donations to:
The Hellenic Initiative Canada
180 Dundas St W
Suite #1200
Toronto, ON
M5G 1Z8
Help us in our efforts to provide direct crisis relief to the people of Greece.
Support Our Work
The Hellenic Initiative Canada is registered with the Canada Revenue Agency as a registered charity (Reg# 760475491 RR 0001). When you make a donation you will receive an official donation receipt for income tax purposes issued from The Hellenic Initiative Canada.
Donate Now