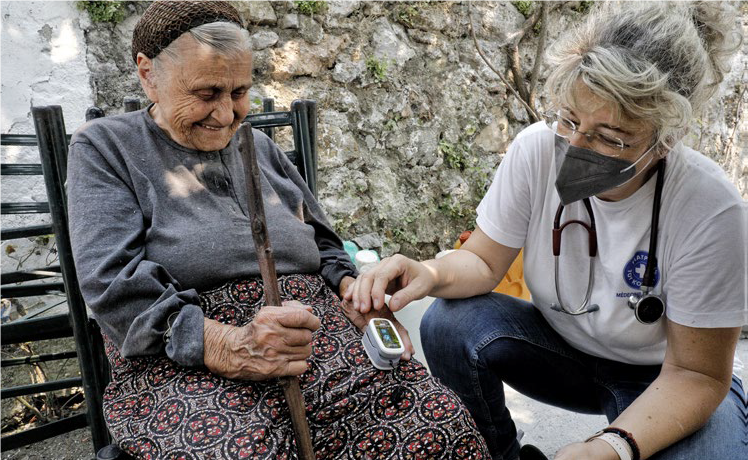 The wildfires in Greece had a devastating impact in the lives and livelihood of many residents. The wildfires destroyed extensive areas in Greece's landscape, nearly defeating efforts by firefighters, residents and volunteers who fought tirelessly against the raging flames.
The Hellenic Initiative Canada (THIC) responded quickly with an emergency wildfire relief campaign, raising $60,000 with the support of friends and donors. Thank you to all for your generosity and philanthropy in support of the people of Greece during this time of need.
All the money raised will go to support those most affected by the wildfires. After considerable due diligence, THIC will be working with two organizations in Greece to implement programs that will provide much-needed food, medical aid and other basic necessities of life to people affected by the wildfires in Northern Evia.
THIC Program with Doctors of the World will support emergency response in Northern Evia, providing medical assistance, psychological support, medical consumables, food and other support for low-income families.
THIC Program with Desmos will cover the needs in olive oil for 200 low-income beneficiaries residing in villages in Northern Evia.
We wish to acknowledge the contribution of THIC Director and former Canadian Ambassador to Greece, Robert Peck, as well as the Hellenic Community of Greater Montreal and the Greek Community of Toronto, for their support and for raising awareness of THIC's wildfire relief campaign through their network of contacts. Thank you to everyone who joined in our effort to provide relief to people affected by the devasting wildfires in Greece.
THI CANADA WILDFIRE RELIEF – PROGRAM DETAILS
A. Doctors of the world – Chain of Hope for the People of Northern Evia
ONGOING ACTIVITIES. MdM-Greece has recorded and supports 17 fire-affected households, including 17 fresh university students and 69 members of their families, 48 elderly people and people with chronic illnesses, 50 children in school age, 21 farm-workers by providing health, MHPSS services while the financial assistance is provided through Super Market vouchers. During October the Pediatric and Dental Care Unit was conducting missions on the field having a target to cover at least the 40% of the children in the local schools. The total number of primary schools in the area is 17 and the number of kindergartens is 15. The total number of children is estimated up to 873 and the total number of fresh university students up to 71.
The operational plan of MDM-Greece is to remain in the field to respond to the needs of the affected community.

TARGET AUDIENCE
Low-income Households
Traumatized People
Chronic Patients
People with Disabilities
Elderly
Pregnant women
Infants
Children under 12 years
Teens up to 18 years of age
Fire affected farm workers
PROVISION OF SERVICES
Medical Care including routine checks
Acute care for illness or minor injuries
Mental Health and Psychosocial Support including trauma
rehabilitation
Community outreach and management of referrals to specialized care
Emergency Pharmaceutical Support
Urgent cash assistance based on evaluation of social status for 30 families
Provision of Medical Consumables to chronic patients, persons with disabilities, newborn mothers and women in pregnancy
Pediatric care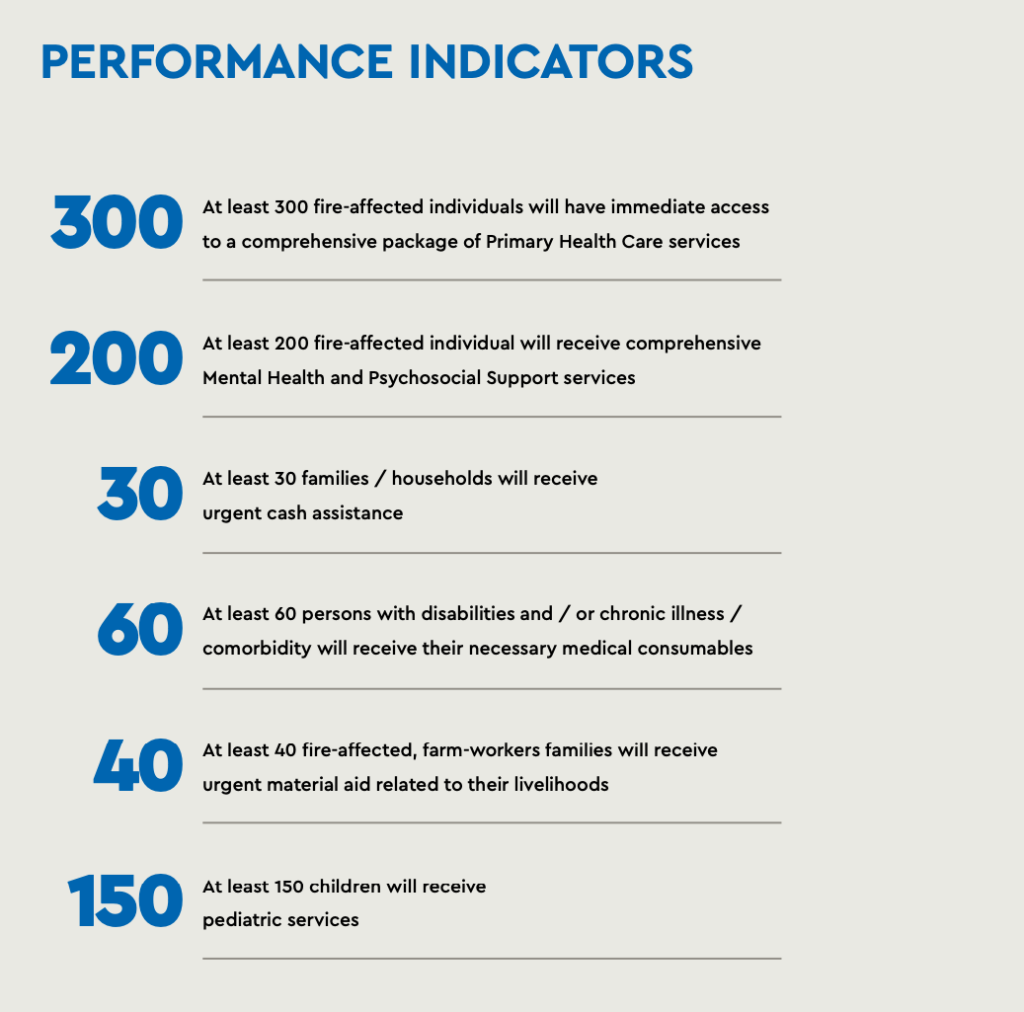 Budget
| | | | | |
| --- | --- | --- | --- | --- |
| Expense category | Cost per Unit (EURO) | Duration in months | TOTAL (EURO) | TOTAL (CAD) |
| Medical Services and Support to the Local Health System | 4,280 | 4 | 17,120 | 24,824.00 |
| Mental Health and Psychosocial Support | 6,160 | 4 | 24,640 | 35,728.00 |
| Material aid to low-income households* | 8,100 | 4 | 32,400 | 46,980.00 |
| Management and Administrative support | 4,260 | 4 | 17,040 | 24,708.00 |
| Travel and Mobile Unit costs | 2,200 | 4 | 8,800 | 12,760.00 |
| | | PROGRAM TOTAL | 100,000 | 145,000.00 |
Exchange rate: 1 Euro – 1.45 CAD
* The "material aid" includes the following provisions:
– Supermarket Vouchers
– Supplies / equipment to the local / farmers / cooperatives
– Supplies / equipment to the local health centers / social care structures
– PPE supplies and / or equipment to the local schools
THI Canada will provide 30.000 euros (44,400.00 CAD) of the total costs of the program.
B. DESMOS and THI Canada Food aid program for the People of Northern Evia
The Northern Evia areas affected by the 2021 Wildfires have been underprivileged for decades and the fire significantly worsened the region's duress. The population is dispersed mainly in small villages and highly depends on small scale activities related to the forests that were destroyed, such as bee harvesting, resin cultivations, lodging, agriculture, cattle farming. At the same time, local produce from these activities made these communities self sufficient in terms of basic goods.
Moving into the winter months, N. Evia communities and municipalities have reached out to Desmos with food relief needs. Most urgently, the needs in olive oil, once abundant in the area, are communicated by our partner NGO's that have been operating in the area, as well as community representatives and residents. Unfortunately, the wildfires, as well as the collateral heat overlaod they caused, destroyed the olive trees and have resulted in loss of olive oil production in the area.
Olive oil is one of the most expensive household food essentials. In partnership with DESMOS we will cover the needs in olive oil for 200 people in the area of Voutas, N. Evia, for 6 months, following the request of the local community and the approval of the municipality. The budget for the implementation of the program is as follows:
Food Relief – 15,000 CDN (10,340€ based on 6/12/21 exchange rates)
Category
Qty
COST
Population
Duration
Project Management
(Travel, comms,
admin, overhead)
1500 CDN
(1,034€)
6 months
Food Relief – Olive Oil
Approx. 625 / 4ltr.*
13,500 CDN
(9,306€)
6 months
Total Budget
15.000 CDN
(10,340€)
200 residents
6 months